Wednesday, September 3rd, 2014
"HARD FOR TEACHER"
With classes starting and the quad filling up with those hard bodied collegiate athletes, bookish nerds, rebel artists, enthusiastic boys just set free from home ready to take a bite of the lotus; I thought I might just need to a review a student/teacher scene to get all you all hot and horny for that professor I know you've got your eye on, you know, the one with the scruffy beard, glasses, an incredible body taut with muscle hidden beneath a coffee stained oxford, and the threadbare tweed blazer. He's the smart one with the great ass dusted with chalk and the bulge in his khaki's that won't quit… Perhaps you've even seen him in the showers at the gym because his meager salary doesn't allow for a real gym membership.
Dr. Jones…
*Have you seen this hottie who went viral a while back…
Maybe you've walked past his little bachelors bungalow while he's mowing his small yard shirtless, sporting a pair of tight, frayed cut-offs showing off a glistening, perfectly sculpted torso, brawny arms, and muscled legs of an athlete… Ok, maybe it's me who needs to calm down.
*After we take a look at some lawn care specialists…
We know how you squirm when he calls on you, putting you on the spot and starring you down for the answer. You can't pay attention though because your cock is swelling to epic proportions just thinking about your educators rod studying your quivering hole. That's just what happens in the scenes from "Hard For Teacher" from GayLifeNetwork.
In scene two, Brizel plays a feisty young man intent on leaving a nasty message on his teachers (Cameron Kincade, who bears a striking resemblance to Peter Krause, star of one of my all time favorite shows "Six Feet Under") blackboard. Little does he know that Mr. Kincade has caught him in the act, and is more than ready to give his pupil a lesson he never thought could be taught in the classroom.
*You think you're sooooo clever…
*CAUGHT!
*Peter Krause, so handsome…
Let's begin the scene just after naughty little bespeckled Brizel has finished his brutal act of slander against his teacher. "Mr. Kincade sucks dick."
Just a simple phrase guaranteed to land that smooth twink a sound punishment. Mr. Kincade leads the boy to a desk and instructs the naïve student to drop his pants. "Like this sir?" No you silly boy, like this, Mr. Kincade pulls down Brizel's jeans and repeats himself "Mr. Kincade sucks dick?" before immediately enveloping his pupils uncut dick in his warm wet mouth.
"Mr. Kincade I didn't know you could…" as the punishment commences, "what, suck dick?" the educator asks. "And you're so good at it sir." Brizel moans as he receives his due tongue lashing.
Mr. Kincade continues to deep throat Brizel's cock, teasing his hooded appendage with gusto, but he wants more of the twink. Upon the desk the smooth tanned youth is on all fours, ass up, and aching to get his bubble butt rimmed by his teachers expert tongue. Mr. Kincade wastes no time getting deep into Brizel's trimmed hole, while stroking his spit slicked dick at the same time. Love a rusty trombone…
*Don't ask, I just had to share it… Look, they're freakin CATS. 
PLAYING TROMBONES! TROMBONES!!!!!
I
I
I
I
I
I
Which led to more cats and trombones….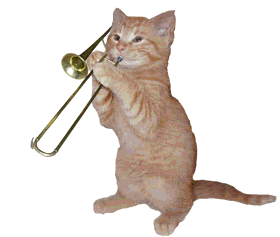 I
I
I
I
Ok, back to the porn…
*Ohhhhhh Mr. Kincade… Don't stop.
*I definitely give props to eager bottoms who are obviously enjoying themselves. Brizel spends the whole time grinding his ample bottom against Mr. Kincade's, face, tongue, and cock. This boy is a power bottom I would be happy to give a ride on my dick.
Ok, let's move on… or move in. "I'm gonna fuck you on this desk." Mr. Kincade orders, and the whimpering pup obeys with a "Can you sir, please?" This kid is BEGGING FOR IT!
Cameron Kincade obliges by sliding his cock up to its hilt inside Brizel's guts, actually Brizel slides himself onto Cameron because he cannot wait to be filled up with teacher's meat. The pair do it doggy style against the desk for a while, with plenty of shots below accentuating Cameron's balls and Brizel's uncut twinkie flopping around as the desk squeaks and scratches the floor (which by the way sounds kind of annoying… just sayin).
Time to flip that insatiable bottom and fuck him right; Cameron wants to get deeper inside his student to make certain he is really absorbing this valuable lesson. He flips Brizel onto his back on that rickety old school desk and continues to plow the luscious ass of his student who literally can't even right now. "You fuck soooo good sir…"
At one point I thought Brizel was going to ditch the glasses altogether (total and utter boner killer for me, if you wear glasses you better keep them on while I'm fucking you god damnit) but he doesn't… thank Cher.
*Take a moment to appreciate Cher.
By now these two are really getting into the thick of this study session/discipline session. Moving to Mr. Kincade's sturdier desk proves to be a good move since it has been dressed for the occasion, complete with apple! Cameron pushes deeper into Brizel whose hands are behind his head enjoying the fantasy cum to life. Mr. Kincade (ever a thoughtful top) strokes his unruly student's youthful hard-on (this is always a winning move, because the bottom can just lie there and enjoy his top). I've also failed to mention Brizel's acrobatic abilities… This boy can spread his legs WIDE open and keep them spread.
Once Cameron slips out of Brizel it's time for the cum shots ( would have preferred seeing Brizel cum all over himself followed by Cameron coating the pupil's glasses with his sticky mess, but alas, tis not what was to be had). Mr. Kincade is the first to shoot his load (sorry, it's not as epic as I like) on his desk, followed by Brizel's (more substantial) creamy mess.
*This is what I'm talking about!
The scene in itself is hot, great camera work, good close-ups, plenty of positions. Both performers are good looking, and the concept is always a favorite. Didn't we all have that teacher that we secretly wished would just throw us over a desk and fuck us… I know I did. How about you?
Go check out "Hard For Teacher" on GayHotMovies.com and begin your semester the right way!
Oh, and follow me on Twitter and Facebook… Just click.
-The Otter