Wednesday, August 13th, 2014
Is that image tempting? Smooth young flesh and a tightly toned body; Ludo Sander is making a splash here at GayHotMovies.com in the opening scene of "Forbidden Encounters" from Icon Male with Billy Santoro. He's a total bottom boy with a handsome face, beautiful penetrating eyes, and his ass, that ass is perfect for a hung top to manhandle.
Naturally I found myself captivated. I'll admit that hairy muscle guys in their 30's are usually my preference, however I was intrigued when I discovered that Ludo wasn't just a pocket bottom you can whip out and impale on your dick whenever you want. For one thing he is tall, and tall guys are huge turn on, mainly because I am tall myself and it's rare that I find a bottom of equal height. Bonus, he's uncut… and if you've been following my blogs or Twitter you know I've got a thing for foreskin.
I found out that Ludo's film was about to go live so I sent him a message about doing an interview, and guess what? He accepted! So here we go, and interview with new comer Ludo Sander.
I
I
I
NAME: Ludo Sander
YOUR AGE: 25
YOUR HEIGHT: 6'2
YOUR PENIS SIZE: 7 uncut
TOP, BOTTOM OR VERS: bottom
YOUR D.O.B: Jan 22
SWEET OR SAVORY: I like sweet drinks, but I love my savory foods?! Lol
YOUR ASTRO SIGN: Aquarius
*So now we know that Ludo is both sweet AND savory…
*He's pretty luscious if you ask me…
The Otter:  What was your adolescent experience like?
Ludo Sander: Well, having to move from France to the U.S. At a young age, I'd say my experience was, "adventurous?!" My transition wasn't the easiest. Apparently a French accent wasn't "sexy" or "cool" back in high school. I was teased for it a lot! But I worked really hard to get rid of my accent and I Americanized myself, which I finally did or at least id like to think I did (lol), but now all I get asked is, "where's your accent?" So I guess you really can't ever please anyone.
*Accent or not… Look at that face and gorgeous lithe body… The things you could do….
The Otter: Do you have any irrational fears? (Zippers while going commando, rabbits, touching any surface while on public transportation, pomegranate stains…)
Ludo Sander: (Insert crickets chirping.) 
Not even this…
*I guess Ludo is a brave boy, fearless you might say…
The Otter: How often do you shower, what soap do you use?
Ludo Sander: I'd say I shower a normal amount of time… Once every day (lol). As far as soap, I use the regular kind?! Jk I use Olè 😉 I do prefer baths tho! Just lay down and feel yourself, get to really know your body as your washing it… Or is that just me? (Lol).
The Otter: Are you a lefty or a righty when you masturbate?
Ludo Sander: I'm definitely a righty, but I need to start using my left hand… My right hand is getting too strong (lol) I go to the gym and my trainer tells me he can tell my right hand is a lot stronger that when I bench press, I struggle a lot with the left hand (lol).
The Otter: How do you prefer your men, clean shaven or scruffy? (Face; Body; Balls)
Ludo Sander: It's a tough one, I actually like both!! I do like my clean look, but hair just adds a little extra for me (lol). I love the clean looks, specifically on myself, but if I ever do date, I would want him with a bit scruff… I don't mind clean looks either!!!
The Otter: Do you consider yourself a good kisser?
Ludo Sander: I'm French, of course I'm a good kisser… I'm definitely very passionate when I kiss. I like the sensuality and tenderness of a kiss. 😉 if you can kiss, I'm head over heels. I do like to tease when kissing, like ill bite the bottom lip or act like I'm about to kiss them and pull away (lol). My favorite is when our faces get close enough and our lips are touching, but we aren't really kissing, we are just feeling each other breathe and lips touching, but nothing actually happening and then you just start eating each other's face (lol).
The Otter: Do you prefer spit or lube when masturbating or having sex?
Ludo Sander: I guess it depends, if I'm just masturbating then I love spit; if I'm having sex on camera then it's safe and lube is a must, but with a partner, I tend to love spit. I mean, c'mon, it's all about rimming!!!! I just love my ass getting pampered (lol). I work hard to have a perky butt, it deserves a lot of love 😉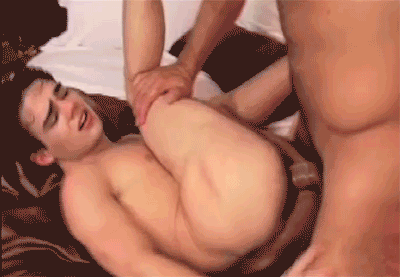 SPIT AND PUMP!
The Otter: What were you doing on the 29th of April, 2011?
Ludo Sander: Oh man, I barely remember what I had for breakfast this morning, let alone what I did 3 years ago. I was probably in school?!
The Otter: Favorite part of a man's body? GO!
Ludo Sander: I have two favorite parts (lol) I love arms and chest!! I can care less for abs, but if you have arms and a chest, it's definitely go time!
*Me too!
The Otter: When did you become interested in working in the industry? How did you get started in the adult industry?
Ludo Sander: I'm an exhibitionist; I love being watched. It's probably the vain side of me, but it gives me a rush. I also get to have sex with such amazing and beautiful men. It's kind of a win win situation… Hot sex with hot guys, and I get to do my fantasies. The one that helped me get started was Adam Russo, but I didn't start getting noticed until Billy Santoro brought me in to work with Nica Noelle for Icon Male. Then I got noticed by Falcon and NakedSword.
* Read my interviews with Adam Russo & Billy Santoro after reading about Ludo.
The Otter: How do you think people see you? Describe yourself, and how you present yourself to the world.
Ludo Sander: Honestly, I don't know… This question actually scares me (lol). I'd like to think that people see me as a fun and free person. I usually like to just do my own thing and go with the flow. Gahh, I'm not sure if I'm even answering this question correctly.
The Otter: Are you crushing on anyone currently?
Ludo Sander: I am crushing on someone, but I don't think that person notices me, which isn't that always the case (lol). "The people you want, don't want you, but the ones you don't want, want you." hashtag "TheStruggleIsTooReal."
*Don't worry, I've noticed you… I just thought you didn't notice me…
The Otter: Do you have any hobbies? (Paranormal investigation, paint by numbers, collecting fool's gold, knitting, turning the lights on and off in rapid succession exactly 36 times, times three, room by room… )
Ludo Sander: I'm pretty boring, I like to play my piano and learn all sorts of classical pieces. I'm working on Chopin at the moment.
*Impressive.
The Otter: Summer is upon us. You will… A) Spend your days down by the river, soaking up the sun and skinny dipping with your buddies. B) Lounge on some white sand beach somewhere that I know I can't afford to visit. C) Sit out on the porch rocking away cause it's too darn hot to do anything… grab your church fan gurl. D) None of the above, I will stay indoors with the unhealthy air conditioning as my only true friend.
Ludo Sander: I'd go with B, but I've actually been saving up and going on a Hawaii trip… I'm extremely excited!!!!
The Otter: What is your favorite Disney movie and which princess do you most relate too?
If we are including new Disney movies then it's for sure Frozen, but if we are just talking old school, then I have to go with Cinderella. I've always wanted to be saved (lol) but I think I relate more to Ariel and Mulan, although I'm not sure if Mulan counts as a princess… Does she?!
*Good answers
The Otter: Who was the first guy you were sexually attracted to? Did you do anything about it? Did you hook up with him?
Ludo Sander: Junior year in High School, Noah was his name, and it's kind of a funny story. I had a "crush" but I never told anyone, then one day on my senior year, there was a rumor going on that I blew him in the locker room (I wish I had!) but of course it wasn't true! I was scared he'd jump me or something, but he never said anything and I just ignored it… Two years after we graduated, he contacted me on Facebook and confessed he had started the rumor himself. He doesn't know why, he just thought it be cool for him to say that. After that I never spoke to him again, so that was that (lol).
*We'll stick to this Noah.
The Otter: Favorite character (book, film, theater)?
Ludo Sander: (Chirping)
*Fine, I shall choose for you…
"Anne Of Green Gables" from the beloved books and films of the same title.
The Otter: What was your first job?
Ludo Sander: I was lucky enough to have a really amazing first job… After high school I started modeling professionally, so that was really cool! My favorite was walking the runways. Photoshoots are of course always a blast.
*I did runway too! When I much younger… and less bearded.
The Otter: Which Golden Girl do you most relate to?
Ludo Sander: I'm probably a bad gay for this, but I'm not entirely sure what that is. I believe it has that famous elderly actress that's really funny, but I really don't know.. Eek.
 This is what Dee had to say. "The nation has failed him. That's awful…" – Dee Viant
*I believe you mean the one and only Betty White
*You will now be known as Rose.
NOW GO WATCH SOME GOLDEN GIRLS!!!!!
The Otter: How often would you say you've eaten or tasted your own cum?
Ludo Sander: Never!
*You should, and post a pic on my Twitter @Otter_Holt
The Otter: Describe the ideal man, what would the man representing your sexual ideal look and be like? (go ahead and get descriptive!)
Ludo Sander: Happiness can only come from within, but I think I know the kinda of person that would make that inner happiness much easier to hold on to… Attractive, intelligent, and a big heart – within a few years of my age and a couple inches of my height, athletic, masculine, but still cute. Someone who is ambitious but still takes time to breathe… a sense of humor, but capable of having a serious conversation when necessary. Someone who can tolerate roughing it, but also enjoys the finer things.
*You posted this dude on Twitter as the "dream man" type… He seems nice:)
The Otter: Remind me to tell you about the time I looked into the heart of an artichoke?
Ludo Sander: Is that even possible?! I want to see!!
"Perhaps some snowy night, in front of the fire."
*I highly suggest watching the Bette Davis classic "All About Eve"
The Otter: What is your favorite area of your body to work out on at the gym?
Ludo Sander: My ass of course!!! Without my perky butt, how am I gonna get work or have people look at me? (Lol).
*You do have a nice ass mister…
Let's Have another look…
Oh Ludo, you'll get noticed (and not just because of that great ass!)
*Let's not forget that handsome face and those STUNNING eyes!
The Otter: Do you want to know what's going through my mind right now?
Ludo Sander: Yes, please! You probably think I'm some crazy kid!!!
*The ghost I saw in bedroom the other night. Now who thinks who is crazy…
The Otter: Is there a favorite recipe you would like to share? Something you've made your specialty?
Ludo Sander: (Chirp chirp)
*We'll choose a recipe for you.
How do you feel about learning to make…
Because I have been having a hankerin for a good pot roast lately…
The Otter: Have you ever used a rotary phone?
Ludo Sander: I'm not even sure what that means!! I've seriously never heard of such thing.
The Otter: You've been invited to a garden party, what do you bring as a hostess/host gift? (You better take a hostess/host gift, it's just polite manners!) What would you wear?
Ludo Sander: I would of course bring some wine… I'm not sure if I'm bringing red or white, it would all depend on the type of garden party. I love playing dress up!! Anything with a theme outfit, I am there!!!!! I guess I would wear all white, very elegant and chic.
I prefer white, a Spanish Abarino is great for a summer garden party. Thanks. 
*White like May Welland's (played by Winona Ryder opposite Daniel Day Lewis'  Newland Archer) day dress in Martin Scorseses 1993 adaptation of Edith Wharton's "The Age Of Innocence"? Nice choice.
The Otter: Would you like to be bound, shaved and fucked by a group of horny swimmers in a shower room?
Ludo Sander: Omg, who wouldn't?! I mean, please don't shave my hair, but you can shave any other place that isn't my head 😉
The Otter: Would you like for me to have my clothes off, or do you want to tear them off of me?
Ludo Sander: I like doing some of the work, I would slowly caress the body, then start unzipping or unbuttoning buttons, then just rip it off of you. I can be an aggressive bottom.
*Go for it! I love my bottoms aggressive!
The Otter: Do you prefer men cut or uncut?
Ludo Sander: I actually like both… But if I did have to pick one, I'd go with cut. I'm uncut, so I'd like to play with something that is different from mine.
And there you have it, the end of our interview with Ludo Sander. Make sure to follow Ludo on Twitter at @LudoSander and check out his hot scene with Billy Santoro in "Forbidden Encounters"  right here on GayHotMovies.com. 
If you liked this post, read my others and follow this dirty otter on Twitter at @Otter_Holt and on Facebook.
*Oh, and Ludo… I'll be expecting a personalized pic from you on Twitter when you decide to try tasting your own cum hot stuff.
 So let's all thank our guest and stroke out a load for him.
Thanks for being a sport Ludo Sander!
-The Otter