Monday, May 5th, 2014
I haven't forgotten about you Matt Stevens! He's starring in the 8th installment of the "Sentenced & Punished" webseries "Daddy's In Charge" and this busy little Otter finally got to sit down and watch it! Well, well, well… Matt might be an intimidating beast of man, but as soon as he takes one look at  the size of Mike DeMarko's impressive cock this guy goes for bottoming gold! The webisode begins with some serious cock sucking with promises of "getting Mike out of jail" and by now we all know this kid will do just about anything for his freedom. The fur flies in this installment once the horse hung pup battle rams a massive dildo in and out of Matt's muscled ass, and before you know it he's bent over a tufted leather executives chair getting the executive treatment from Mike. (Who up to this point has been everyone's submissive bottom! Thank heavens he gets to use that tool on someone.)
So who is this solid, furry, stud with the smile that's both winning and devilish at the same time? Who is the lucky bottom who gets filled up by Mike DeMarko? Well, I was about to find out. Matt Stevens is quite a guy… And now, you too get the chance to find out whats beneath that powerful exterior of this impressive star.
Here we go, The Otter and Matt Stevens.
I
I
 NAME:  MATT STEVENS
YOUR AGE:  40
YOUR HEIGHT:  5'9"
YOUR PENIS SIZE:  6c
TOP, BOTTOM OR VERS:  VERS
YOUR D.O.B:  NOV 3
SWEET OR SAVORY:  SAVORY
YOUR ASTRO SIGN:  TOTAL SCORPIO
I
 I
I 
I
 I
I
I 
 I
The Otter:  What was your adolescent experience like?
Matt Stevens: VERY ORDINARY. LIVED IN A SMALL TOWN ON A LAKE IN THE MIDWEST.  VERY LOVING AND STABLE FAMILY ENVIRONMENT.
The Otter: Do you have any irrational fears? Agoraphobia, the Olsen twins, choking while home alone, etc. (I personally dread the Callery Pear, or Pyrus calleryana… The tree smells like cum… and they're blooming.)?
Matt Stevens: I'M ACTUALLY DEVELOPING FEARS AS I'VE GOTTEN OLDER (WHICH I THINK IS BACKWARDS).  ONE OF THEM IS CLAUSTROPHOBIA…. MAINLY OCCURS WHEN IN A BACK SEAT OF A CAR OR SHUTTLE VAN WHEN EVERY SEAT IS TAKEN.  ALSO, I'VE BEEN STUCK IN TWO ELEVATORS IN THE LAST YEAR SO NOW I'M CAUTIOUS TO STEP IN ANY ELEVATOR THAT LOOKS A LITTLE SUSPECT.
* How about this elevator?… From "The Shining"
Nothing suspect about that one…
The Otter: Would you like a piece of ribbon candy?
Matt Stevens: NOT BIG ON ANY CANDY… I ACTUALLY ENJOY COUGH DROPS BETTER, EVEN WHEN I DON'T HAVE A SORE THROAT.
*Perhaps a Luden's then?
*Interestingly enough, Luden's cough drops originated in my home county of Berks, Pennsylvania. With a great product that replaced mentholated syrups in glass bottles and a marketing strategy that had never been utilized, Luden gave samples of his product to rail workers who spread the drops cross country cementing his role as one of the tycoons of the era. From a small kitchen in a Reading row house, the Luden fortune would grow as it's product became world known… "And now", as Paul Harvey would say "you know, the rest of the story."
The Otter: Do you feel the need to masturbate considering your career?
Matt Stevens: YES, BUT I DO REFRAIN FROM DOING SO 2-3 DAYS PRIOR TO SHOOTS IF POSSIBLE.
The Otter: Are you a lefty or a righty when you masturbate?
Matt Stevens: FUNNY YOU SHOULD ASK… I'VE ALWAYS USED MY RIGHT HAND 100% OF THE TIME, BUT A COUPLE WEEKS AGO I INJURED MY RIGHT BICEP SO I'VE LEARNED TO USE MY LEFT HAND AND HAVE ACTUALLY BECOME FOND OF THE SLIGHTLY DIFFERENT SENSATION IT BRINGS.
The Otter: Do you prefer spit or lube when masturbating or having sex?
Matt Stevens: BOTH… PREFER SPIT DURING ANAL WHEN POSSIBLE BUT SOMETIMES HAVE TO REVERT BACK TO LUBE FOR OBVIOUS REASONS.  WHEN MASTURBATING I USUALLY HAVE TO START WITH A FEW DROPS OF LUBE THEN MIGHT INCORPORATE SPIT AS I CONTINUE.
The Otter: Are you a city boy, a suburb boy, or a country boy? What would be an ideal place for you to live?
Matt Stevens: TOTAL CITY BOY… ESPECIALLY IF THE CITY IS ON OR NEAR WATER.  WHILE I COULD ASSIMILATE LIVING IN MOST PLACES THE TOP CITIES I WOULD DESIRE TO LIVE IN ARE BERLIN, LONDON, NEW YORK CITY, AND LOS ANGELES.  WHILE I ENJOY MIAMI AND CHICAGO I HAVE LIVED IN BOTH FOR SEVERAL YEARS SO THE APPEAL HAS WORN OFF.
The Otter: It's a wicked evening with heavy rain, lightning and thunder crashing. You find yourself confined to the indoors without a chance of getting out in this storm; you A) Build a fire and cozy up with a glass of scotch and a good book. B) Build a fire, grab your blankie and settle in for a night of horror flicks on the tube. C) Build a fire and spend the evening taking selfies to post online as you recline seductively on a bearskin rug?
Matt Stevens: OF THOSE CHOICES (C) WOULD BE THE CLOSEST TO REALITY.  I WOULD PROBABLY EITHER WATCH SPORTS ON TV OR FIND A PLAYMATE IN CLOSE PROXIMITY TO COME OVER AND HAVE MAD PASSIONATE SEX WHILE THE RAIN TORRENTS, THE THUNDER CLAPS AND THE LIGHTNING ILLUMINATES MY ROOM.
*So glamorous, so chic.
The Otter: When did you become interested in working in the industry? How did you get started in the adult industry?
Matt Stevens: I'VE BEEN INTERESTED IN THE INDUSTRY FOR OVER 10 YEARS BUT WITHHELD MY PARTICIPATION DUE TO WORKING IN CORPORATE AMERICA.  WHEN I BECAME AN INDEPENDENT MARKETING CONSULTANT I FELT I WAS FREE TO TAKE THE PLUNGE.
WHILE I WAS HEADING IN THE DIRECTION OF STARTING PORN THE ACTUAL DECISION CAME AT A MOMENT'S NOTICE WHEN MY BUDDY DRAKE JADEN CALLED AND SAID THAT HIS SCENE PARTNER COULDN'T MAKE IT AND WANTED TO KNOW IF I WAS INTERESTED IN SHOOTING PORN WITH HIM IN TWO HOURS.  AFTER A FEW MOMENTS OF DELIBERATION, I OBVIOUSLY SAID YES AND HAVEN'T LOOKED BACK.
* Here we have Drake Jaden & Matt Stevens being domestic together in the kitchen.
The Otter: Would you consider yourself outgoing, modest, shy, confidant, douchebaggish, trustworthy, outspoken, kind, careful, reckless? Describe how you feel you present yourself to the world.
Matt Stevens: WE ALL YEARN FOR THE SAME THINGS…  UNCONDITIONAL LOVE, HAPPINESS AND ACCEPTANCE.
LIKE MOST PEOPLE, I AM SIMPLE YET COMPLEX. SO I CAN BE VERY SHY ONE MINUTE AND VERY OUTGOING THE NEXT.  SOMETIMES QUIET, SOMETIMES OUTSPOKEN.  OFTEN CONFIDENT, AND MANY TIMES INSECURE.  BEING A PRODUCT OF MIDWEST CULTURE, I AM BY NATURE VERY TRUSTWORTHY, YET THAT GETS TESTED IN SOUTH FLORIDA LOL.
I ALWAYS TRY TO BE KIND AND CARING AND LOOK AT EVERYTHING FROM ALL PERSPECTIVES.  IF YOU CAN PLACE YOURSELF IN SOMEONE ELSES SHOES YOU CAN SEE WHERE THEY ARE COMING FROM… FOR GOOD OR BAD.
I WOULD LIKE TO BE THOUGHT OF AS RESPONSIBLE, A MAN OF MY WORD, DEDICATED, INTELLIGENT, LOYAL AND BECAUSE I'M SHALLOW LET'S THROW IN SEXY.
*Like a scout!
The Otter: Are you crushing on anyone currently?
Matt Stevens: YES, BUT ONLY IN MY MIND.
*He's thinking of me… Again. Oh Matt, stop. I'm blushing…
The Otter: Do you have any hobbies? (I love hobbies, especially arts and crafts. What do you like? Puzzles, model airplanes, taxidermy, ant farms, lace making, quilting, gunsmithing?????)
Matt Stevens: BESIDES THE OBVIOUS IN WORKING OUT… I AM A POLITICAL JUNKIE SO I'M ALWAYS WATCHING CABLE NEWS, READING POLITICAL WEBSITES/BLOGS AND PARTICIPATING IN POLITICAL CAMPAIGNS.
*Politics are NOT a hobby in my book. Working out is part of your job. Here, I'll pick a new hobby for you… Fraktur, the Pensylvania German art of painted paper. Enjoy. 
*Notice the lovely Distelfinks.
The Otter: How are you planning on celebrating Arbor Day this year? (It falls on April 22nd, so if you have yet to make plans I suggest you make them soon!)
Matt Stevens: ARBOR DAY IN FLORIDA IS ACTUALLY CELEBRATED THE THIRD FRIDAY IN JANUARY. ONE OF MY FAVORITE DAYS OF THE YEAR.  I DRESS UP AS A TREE.
*Arbor day has come and passed since this interview, so I hope you did dress like a tree!
The Otter: What are your future goals? (Career, education, travel, etc.)
Matt Stevens: I WILL CONTINUE MY WORK AS A MARKETING/PUBLIC RELATIONS CONSULTANT.  IT IS MY PASSION TO PROMOTE PEOPLE AND PRODUCTS AND SEE THEM GAIN RECOGNITION AND OR INCREASED SALES THROUGH MY EFFORTS.  I AM EXCITED TO BE REPPING FOR AN ESTABLISHED BRAND THAT WILL BE INTRODUCING AN APPAREL LINE THIS SEPTEMBER.
The Otter: Who was the first guy you were sexually attracted to? Did you do anything about it? Did you hook up with him?
Matt Stevens: I WAS ATTRACTED TO MANY GUYS THAT I WENT TO HIGH SCHOOL WITH BUT AT THAT TIME I WAS SO NAÏVE I DIDN'T EVEN TRANSLATE THOSE FEELINGS TO BEING GAY.
*Scene 6 from "Kyd Stuf"
The Otter: Favorite quote from the movie "Heathers"?
Matt Stevens: "DID YOU HAVE A BRAIN TUMOR FOR BREAKFAST?"
The Otter: What was your first job?
Matt Stevens: I WORKED AT THE GOLF COURSE OF A COUNTRY CLUB….WASHING MEMBERS GOLF CLUBS AND CLEANING AND PARKING CARTS.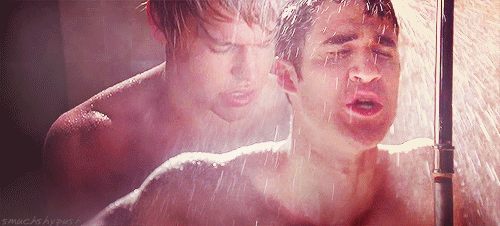 *I'll bet you did some washing… With the other caddies too!
The Otter: Which Golden Girl do you most relate to?
Matt Stevens: BLANCHE – FOR HER SEXY AND FUN PARTS AND DOROTHY FOR BEING THE VOICE OF REASON.
The Otter: Favorite character (book, film, theater)?
Matt Stevens: TAD ALLAGASH, BRIGHT LIGHTS, BIG CITY
I ACKNOWLEDGE HE WAS OUT OF CONTROL, COMPLETELY NARCISSISTIC AND HARDLY A ROLE MODEL… JUST LIKE THE CHARACTERIZATION PLUS I'M STILL TRAPPED IN 80'S MOVIES CULTURE.
The Otter: Describe the ideal man, what would the man representing your sexual ideal look and be like? (go ahead and get descriptive!)
Matt Stevens: IN MY HEAD IT'S ACTUALLY SOMEONE WITH A SIMILAR LOOK TO ME.  HOWEVER, I CAN BE ATTRACTED TO MEN OF ALL TYPES AS LONG AS THEY TAKE GOOD CARE OF THEIR LOOKS, POSSESS GOOD ENERGY, HAVE A SENSE OF HUMOR AND WHILE SERIOUS ABOUT LIFE DON'T TAKE THEMSELVES TOO SERIOUSLY.
*That's the statement of the great mint in Doublemint gum!
The Otter: So I'm moving to a new house, I'm kind of thinking I want to give my bedroom a new look (right now it is pink, the new one is a nice, almost army green color that I think all of my gilded frames will look great on) however, I'm not really feeling the bedspread I'm using on the Federal style mahogany four poster. I'm thinking possibly an antique quilt in gold, or gold damask with a bullion fringe, or possibly a pale yellow candlewick bedspread with ball fringe? What do you think? (By the way the Drapes are heavy gold damask.)
Matt Stevens: THAT'S QUITE A DESCRIPTION BUT YOU LOST ME…  WHILE I KNOW WHAT IS HOT OR NOT WHEN I SEE IT… I DO NOT HAVE THE GAY INTERIOR DECORATOR GENE… WHICH IS ODD BECAUSE I'M A RATHER CREATIVE PERSON IN MOST OTHER AREAS.
The Otter: What is your favorite area of your body to work out on at the gym?
Matt Stevens: VARIES… MOST OF THE TIME IT'S CHEST… BUT I GET THE MOST SATISFACTION FROM A HARD LEG WORKOUT THESE DAYS.
*SEXY
The Otter: Having been raised, and now a recovering Roman Catholic, I am all too aware of having to kneel for extended periods of time. Considering you do too in your line of work, were you aware that there are portable kneeling pads available at the religious supply store? I feel like I should send some out to you guys as a way of giving back to the men I enjoy watching so much. Which color vinyl do you think would be popular?
Matt Stevens: NOT AWARE BUT I WOULD LIKE SILVER.
*How about this one? I think it's really pretty.
The Otter: Have you ever had sex on a staircase? Is there a specific staircase style or famous staircase you would prefer to have sex on?
Matt Stevens: YES. NOT REAL CHOOSY ABOUT STYLE OR TYPE BECAUSE IT USUALLY HAPPENS AT THE SPUR OF THE MOMENT EITHER IN A HOTEL/APARTMENT BUILDING STAIRWAY OR OFFICE BUILDING.
The Otter: Did you hear about the circus fire?
Matt Stevens: I HAD NOT BUT I WAS CURIOUS SO I RESEARCHED IT… HARTFORD CIRCUS FIRE 1944 (70TH ANNIVERSARY).
*Not the one I was thinking of… It was in tents (like the pun? INTENSE!)
*Hartford Circus Fire. 
The Otter: You've been invited to a garden party, what do you bring as a hostess/host gift? (You better take a hostess/host gift, it's just polite manners!) What would you wear?
Matt Stevens: I WOULD TAKE A SCENTED CANDLE OR SOMETHING SPECIFIC TO THE LIKES/INTERESTS OF THE HOST.  I WOULD WEAR SKINNY PANTS AND A HOT TIGHT V NECK T-SHIRT.
*I have specific likes… 
*And while we're at it… 
The Otter: Down feather, spring coil, or memory foam bed? (Preference.)
Matt Stevens: DON'T KNOW THE DIFFERENCE.
*He doesn't know the difference! 
The Otter: Would you like for me to have my clothes off, or do you want to tear them off of me?
Matt Stevens: DEFINITELY TEAR THEM OFF… I ENJOY LONG FOREPLAY.  I DISLIKE WHEN YOU START SOMETHING AND THEY IMMEDIATELY STRIP DOWN LIKE IT'S A DOCTOR'S APPT OR SOMETHING… SHOWS THAT THEY ARE UNROMANTIC AND PROBABLY REALLY BORING SEXUALLY.
The Otter: Do you prefer men cut or uncut?
Matt Stevens: NO REAL PREFERENCE BUT UNCUT IS HOT BECAUSE I'M NOT SO IT'S FUN TO PLAY WITH SOMETHING DIFFERENT.
*Yeah, suck on that big, fat, uncut cock.
So there you have it, an exclusive interview with the one and only Matt Stevens. Make sure to check this stud out in "Daddy's In Charge" available right here on GayHotMovies.com and follow Matt on Twitter. You should also be following me as well on both Facebook and Twitter for hot photo's, exclusive interviews and randomness.
Thanks again to Matt Stevens for being a sport! Let's get another look at this guy shall we…